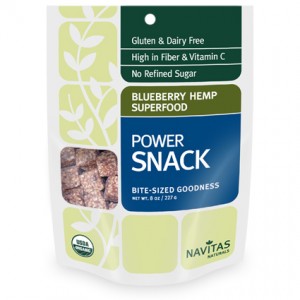 Navitas Naturals sent me some of their Blueberry Hemp Superfood Power Snack.  Too bad I didn't think to stick it in my backpack the other morning.  I really could have used a boost after my Spin class.
These are little cubes of energy, full of those fun ingredients that you hear about from nutrition gurus, like chia, hemp, maca, camu-camu, and maqui.  It has benefits like protein, dietary fiber, omega fatty acids, antioxidants, and vitamin C.
These make a good grab-and-go snack.  The are small, portable, and non-messy.  Mostly, I taste blueberry and sesame seeds.  There is another obvious flavor that I can't place.
If you like seeds, you should give these a try.  They are packed full of chia, sunflower, and sesame seeds.  If you don't like seeds, you might not like these, since seeds are such a big portion of the food.
I think I'll stow the rest of the bag in my gym backpack, if Corice leaves any for me.  🙂
Ingredients: date paste, chia seeds, sunflower seeds, cashews, dried blueberries, sesame seeds, hemp powder, maca powder, lucuma powder, maqui powder, natural blueberry flavor, camu camu powder.