Have you ever gotten stuck in a rut with your pasta?  We have our standby favorites, but we try to rotate through them.  I'm also constantly adding different things to my jarred sauces.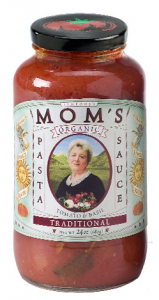 I recently received a jar of Mom's Organic Traditional Pasta Sauce to taste and possibly review.
Even just looking at this jar, I knew it was different than most pasta sauces.  It is filled with big chunks of veggies, which is something we love!  We're constantly adding veggies to our spaghetti sauces.  It also has whole basil leaves in it.  This is not some pureed sauce.  It is for someone who wants to appreciate the sauce and the vegetables.
A bit of a bite accompanies each of your bites. There's black pepper in it!  I don't think I've ever noticed black pepper in any sauce I've had before.  At first, I wasn't quite sure about it.  A few bites in, however, I had decided that I should try adding some black pepper the next time I make spaghetti sauce.
With all those chunks, and perhaps because it's organic, it has a much more vegetable-y flavor than most sauces.  Add to that the black pepper, and you have a very distinctive flavor.  This is definitely not a generic pasta sauce.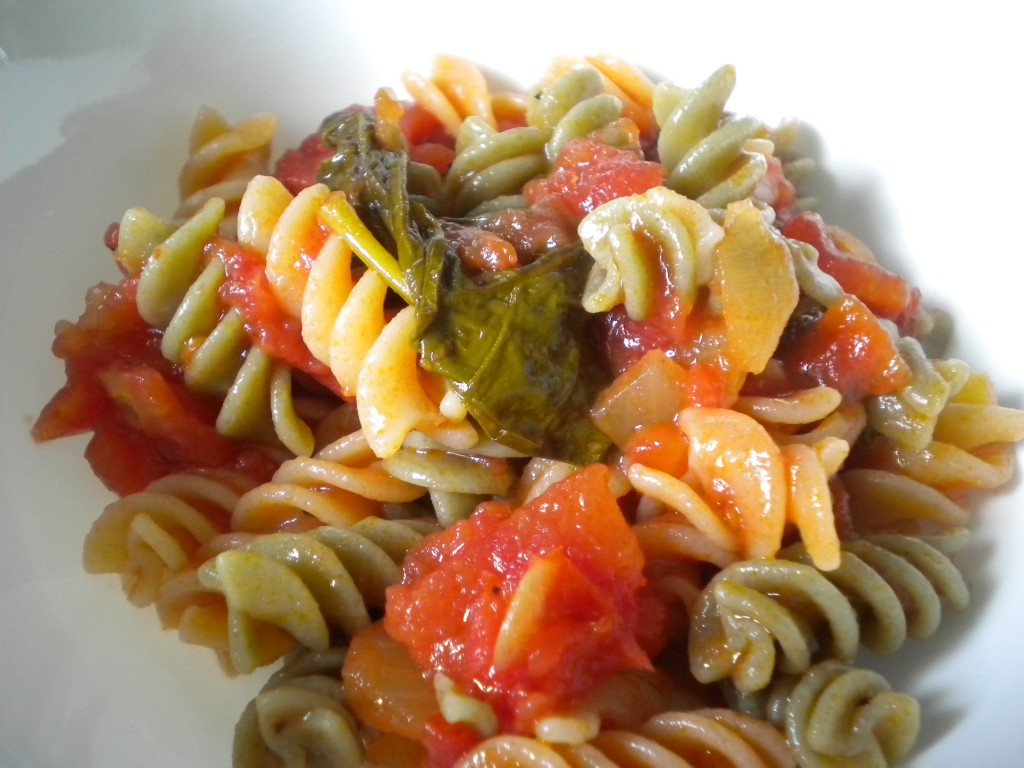 Corice gave it an "mmmmmm, it's good" on her first bowl, and an "mmmmmmm, delicious" on her second.  That's pretty high praise from a 3 1/2 year old. 🙂
Mom's Sauces come in 8 varieties, all of which are gluten-free.
Organic Traditional Pasta Sauce
Organic Roasted Pepper Pasta Sauce
Fresh Garlic & Basil Spaghetti Sauce
Special Marinara Sauce
Puttanesca Spaghetti Sauce (only one not vegetarian)
Martini Pasta Sauce
Spicy Arrabiata Sauce
Artichoke Heart & Asiago Cheese Pasta Sauce
We tried ours plain on some noodles (we used Tinkyada veggie spirals), so that we could fully appreciate the sauce itself.  However, Fischer and Wieser provided a recipe for us, which looks really tasty:
Asparagus and Chicken Manicotti with Mom's Organic Traditional Pasta Sauce
 
Ingredients:
1/2 box (7) tubular (manicotti, cannelloni) pasta (Good luck finding that gluten-free.  I suggest Tinkyada large stuffing shells instead.)
1-1/4Â cup Ricotta cheese
1Â cup Mozzarella cheese (shredded)
1/4-1/3 cup Italian seasoned bread crumbs (gluten-free, of course!)
1/4 teaspoon salt
1/4 teaspoon minced garlic
1/4 teaspoon garlic salt, as desired
1/4 cup chopped parsley
3 cups Mom's Organic Traditional Pasta Sauce
8Â spears fresh baby asparagus
2Â fully cooked Parmesan or Italian Seasoned Chicken Breasts (you'll probably have to season some yourself, to make sure they're gluten-free)
Instructions:
·      Carefully place pasta tubes a few at a time into 6 to 8 quarts of rapidly boiling salted water.
·      Cook 8 to 10 minutes, stirring occasionally. DO NOT OVERCOOK. Drain. Allow to cool slightly.
·      Combine Ricotta and shredded Mozzarella cheeses, Italian bread crumbs, salt, minced garlic, garlic salt and chopped parsley.
·      Pour half the Mom's Organic Traditional Pasta Sauce in 13″x 9″x 2″ rectangular baking dish.
·      Stuff the cooked pasta with filling.
·      Arrange stuffed pasta tubes on sauce.
·      Steam asparagus 3-5 minutes in vegetable steamer.
·      Thaw and warm fully cooked Parmesan or Italian Seasoned Chicken Breasts in microwave, 3-4 minutes.
·      Dice chicken breasts.
·      Place steamed asparagus and diced chicken breasts over stuffed pasta tubes.
·      Pour remaining Spaghetti Sauce over all.
·      Sprinkle with additional mozzarella cheese the last 10 minutes of baking.
·      Bake in 350 degree oven approximately 30 minutes.
                                                    Serves 4