Unlike anything else on our shelf, is the newest addition to our cookbook family, and it really made Braden smile.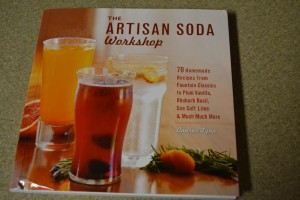 Cutting corn out of Braden's diet means we cut out most sodas (not that we drank them very often, but it's telling someone they can't have something that makes them want it) and most pancake syrups, etc.  To our excitement, we recently received The Artisan Soda Workshop, by Andrea Lynn, from the publisher.  "70 Homemade Recipes from Fountain Classics to Plum Vanilla, Rhubarb Basil, Sea Salt Lime & Much More."
With this cookbook, you create the syrup to add to either bottled seltzer water or carbonated water from a SodaStream. Â We decided we needed to borrow Grandma's SodaStream for our experiments.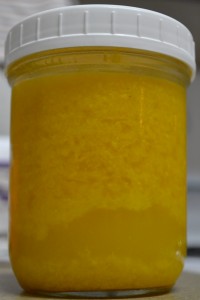 The recipes are quite easy to make. Â We tried the Orange Soda first. Â The hardest part of that recipe was zesting and juicing a few oranges (not that hard). Â We did find that we preferred a greater amount of syrup to carbonated water than the author provided in her recipes, but since you don't add all of the syrup at once, you can easily make adjustments for your own tastebuds.
One of the neatest things we did was make the Cinnamon syrup and used it on pancakes one morning. Â What a hit! Â And who knew that cinnamon soda would be so good? Â Mint syrup on pancakes and mint soda? Â Yes, please. Â Rosemary sparkling lemonade was so intriguing I had to make it. Â I'm definitely sold; the flavors complement each other wonderfully.
One of the great things about this book is that the author uses granulated sugar, raw sugars, palm sugar, or agave syrup to sweeten and make the syrups, instead of using corn syrup.
Did you know you can make a tasty grape syrup just by cooking down 100% grape juice?
We enjoyed making sodas, using both the SodaStream and bottled seltzer water, but using the syrup on our pancakes was even more fun for us. Â We definitely intend to keep that up. Â Maybe next time we have pancakes, we'll make some blackberry lavender syrup or maybe some pineapple basil.
Then again, I might finally get up the courage for mango chile…