I'm curious to see how this year will actually go. Â In some ways, it seems great, others, not so much. Â I got rear-ended the day after my birthday (but my car's a beast!), and I just found out that someone is impersonating me online (they named their new blog Delightfully Gluten Free AND they've linked to my personal facebook page from their website – I am super ticked). Â But other things are falling into place, including my graduate research, Martin getting a new job, Braden got glasses and now knows what things really look like… 🙂
This past Saturday was my birthday. Â My plans for the day completely evaporated, and my little brother was there to save the day. Â He took me to Patrizio's in Highland Village, TX for a fabulous lunch.
I found Patrizio's while searching the "Find Me Gluten Free" app. Â I was surprised how many restaurants in my area have gluten-free menus! Â (I don't eat out much. Â With 3 kids and a husband who eats as much as the 4 of us put together, it's not very cost-effective.) Â I decided I needed a little drive out to Highland Village, and boy! are we glad we went.
Patrizio's has a pretty good-sized gluten-free menu, so we started with some steamed mussels (excited that there was something in the appetizers that I could have – not an option at many restaurants). Â I was pretty wary, since I had an awful experience with oysters a few years ago (so slimy!!!!). Â They aren't like that at all, though. Â The herbs and spices, as well as the dipping sauce, really complemented the flavor. Â We ate the whole plate, and enjoyed every bite.
When our pasta came, Corey realized I hadn't taken any pictures yet, and knew I was dying to. Â I didn't have my good camera, but I hope you can get a feel for the awesomeness that is Patrizio's.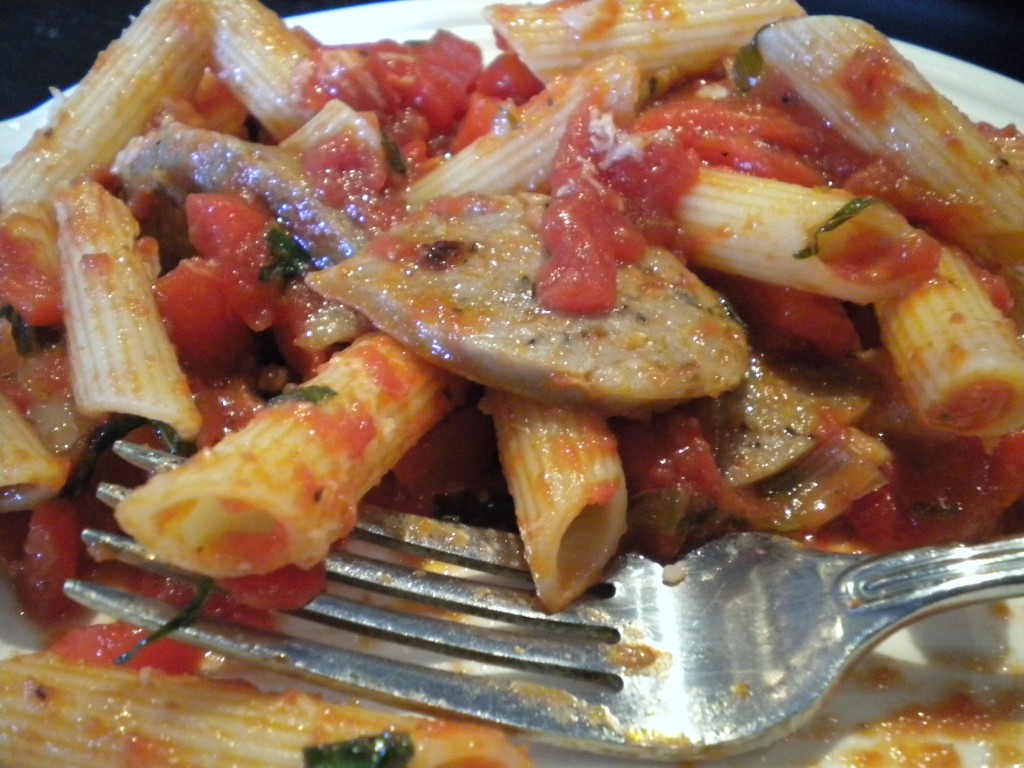 Corey decided that since it was my birthday, we would get two gluten-free meals and split them. Â We chose the spicy Penne Arrabbiata and the Penne Caprese. Â We loved the bold flavors of the spicy dish, but we were totally captivated by the Caprese. Â Who knew that almonds and asparagus made such a great pair? Â Tomatoes, lemon butter, and romano cheese all helped create this superb dish.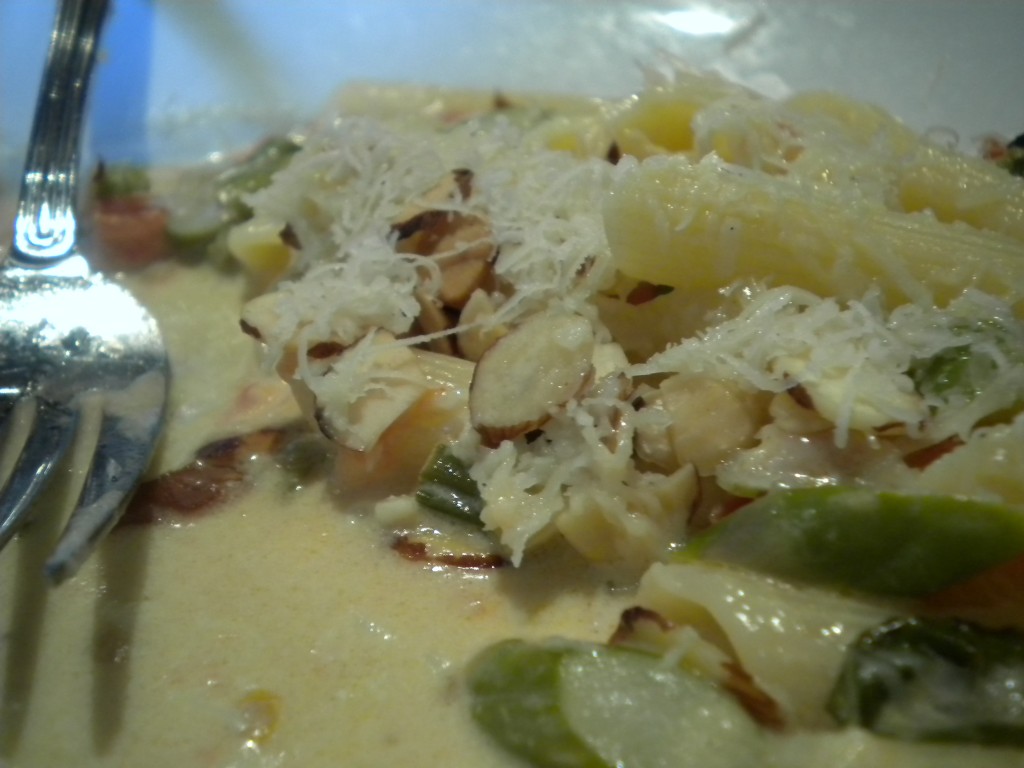 I have to admit that the waiter grating parmesan is one of my favorite things about Italian restaurants. Â It's part of the ambiance and experience that just delights me. Â Plus, I love cheese.
Patrizio's is very tastefully and artfully decorated, as well. Â I almost felt like I should have been wearing a dress instead of jeans. Â Almost.
For birthdays, the chef usually provides an ice cream with biscotti. Â Obviously, I wouldn't be having that. Â But since we ordered a piece of Double Chocolate Cake, a flourless cake, the chef took some time to prepare a beautiful plating with rose strawberries and the most wonderful mousse stuff. Â Not kidding, I could have eaten that all day. Â The cake itself was dark and rich, a thick, dense creamy goodness that puts all fudge to shame. Â Did I mention the extra special birthday mousse? Â I'll take a bucket to go, please. Â Make that two.
I'm pretty sure I'm gaining weight just recalling that lunch, but it was soooo good! Â I made up for it and taught Step aerobics on Tuesday (which my aerobic dance students and my calves are not too happy about).
Patrizio's is currently just in North Texas, and if you are nearby, I suggest you think about giving it a try. Â We're really starting to bust out with some good restaurants and bakeries around here. Â Hopefully, I'll have a chance to get around to some more soon, but my calves are telling me "no." Â 🙂