Sometimes, you just really want a burger, right? Â How about a Veggie Burger?
I remember veggie burgers had just started to get good enough for me to eat and then I got diagnosed and went gluten-free. Â At that time, there was no such thing as a gluten-free veggie burger. Â There are a number now, but I really just tried my first one.
I recently received some coupons to try some Qrunch Veggie Burgers. Â I must say, I am very impressed!
They were very easy to prepare in the skillet: a few minutes on each side and they were hot and a bit crispy on the outside.  I was feeling hungry and ambitious and decided to make myself a double decker (perhaps a little too much for me at one time).  I tried the Spicy Italian version.  It is spicy!  Corice decided that she would give it a go since trying new things is important, but it wasn't long before she told me "it's burning my tongue." It had an excellent flavor and made a wonderful sandwich.  The spiciness was great, but I did have to get some water before I finished.  🙂  Oh, my gosh, I love it!
These veggie burgers are full of goodness and fit many dietary needs: gluten-free, vegan, soy-free, corn-free, nut-free, and sweetener-free (which I didn't realize is a problem with most veggie burgers). Â I think Braden's going to be excited when he sees the plain ones. Â He used to love eating veggie burgers before we found out about his allergies.
Keep reading for some interesting recipes provided to me by the Qrunch people.
Grilled Mushroom Ragout Smothered QRUNCH Burger – a lovely first course. Serves 4
2 lbs mixed crimini and portabella mushrooms
3 T. Olive oil, divided
1T Herbs de Provence
1 large shallot, minced
2 cloves garlic, minced
¼ cup tawny port
1 ½ cups heavy cream (vegan substitute: soy or oat milk or raw cashews blended with water)
Fresh thyme and rosemary sprigs
4 QRUNCH burgers
Use a spoon to remove the portabella's black gills or your sauce will be grey. In a large bowl, toss whole mushrooms in 2 T. Oil, salt and pepper and the herbs de Provence. Grill mushrooms on a grill pan on the stove or on a gas or charcoal grill until softened and cooked through…about 3-5 minutes on each side. In the meantime, over medium heat add 1 T. oil in a large sauté pan. Add shallots and garlic and cook until softened. Remove mushrooms from the grill to a cutting board. Cut into ¼ inch slices, add to the pan and fold in well with the shallots and garlic. Turn heat up to high, add tawny port and cook for two to three minutes or until the liquid is nearly evaporated, continuing to stir or shake the pan. Turn down heat to medium. Add the cream heavy cream or vegan substitutes. Blend all ingredients and cook until the mixture thickens. Grill QRUNCH burgers until crispy and heated through. Spoon ¼ of mushroom ragout over each QRUNCH burger. Garnish with sprigs of fresh rosemary and thyme.
QRUNCH and Avocado Terrine with Autumn Vegetable Sauté – a substantial and colorful main course
Serves 4
3 cups cooked Christmas lima or cranberry beans (from 1 cup dried beans prepared with a bay leaf, ½ diced carrot, ½ cup diced onion, 1 minced clove garlic, a sprig of thyme)
3 Avocados, peeled, pit removed, cut into ¼"inch dice
Zest and juice from 1 lemon, divided
2 cloves garlic, minced, divided
4 cups, peeled and cut into ½" dice, butternut squash
2 ½ cups vegetable broth, divided
1 medium to large red onion, 1/8" diced to yield 1 ¾ cups, divided
1 cup corn kernels
1/4 cup plus two tablespoons, 1/8" dice roasted pepper, divided
1 tablespoons fresh thyme leaves
1 cup walnuts, toasted with salt and olive oil
8 QRUNCH burgers
To prepare beans: Place 1 cup clean and picked over fresh dried beans in cold water, covered by an inch. Add ½ cup diced onion, bay leaf, ½ diced carrot, 1 minced clove garlic, a sprig of thyme, and 1 teaspoon of salt, or to taste. Bring to boil then cover and simmer for two hours until tender. At 110 minutes into cooking, uncover and stir bean. Add water if necessary to produce a slightly thickened liquid. Mashing a few beans on the side of the pan and mixing the mash back in as you finish cooking will help thicken if the sauce is too watery. Remove bay leaf after cooking. Do not drain pot liquor. NOTE: There is no need to presoak unless you have the time. You can cut about 50 minutes from the cooking time by either soaking overnight or bringing to a boil for one minute, covering and letting sit for an hour before cooking. Yet, I believe presoaking compromises flavor and texture. Also, I do not find that adding flavorings, specifically salt, at the beginning of cooking make the skins measurably tougher. They do add a lot of flavor.
Red-pepper aoli –(note: while you can make aoli easily and quickly in a food processor, the result isn't as fine as by hand; yet, you would follow the same steps in order using a processor) In a mortar, grind 2-3 garlic cloves, a tablespoon of reserved roasted red pepper and ½ tsp salt with a pestle until you form a smooth paste. Transfer paste to a medium bowl. Whisk in one room-temperature egg yolk and then, drop by drop, add a cup of good quality olive oil. As the mayonnaise thickens, you can add the oil more liberally in a steady stream until you incorporate the entire cup. At the end, stir in 1 tsp fresh lemon juice and ½ the lemon zest. Scrape into a re-sealable plastic bag, seal and refrigerate until assembly.
Avocado salad – In a medium bowl, fold diced avocado with 1 minced clove of garlic, 2 tsp lemon juice and the remaining zest, salt and pepper to taste. Refrigerate until ready to assemble.
Place walnuts in one layer on a baking sheet, tossed with1 teaspoon olive oil and 1 teaspoon salt. Bake at 350 or in a toaster oven for 4 minutes. Remove from oven and let cool completely. Reserve for assembly.
Add 1 tablespoon oil to a large (10-12 inch) sauté pan over medium heat. Add 3/4 cup red onion and one clove minced garlic to the pan and cook until translucent. Add butternut squash to the pan along with 2 cups vegetable stock, and salt and pepper to taste. Toss well and let simmer until squash is tender. Cover, keep warm, reserve.
Add 1 T. oil to a small sauté pan over medium heat. Add ½ cup onion and cook until translucent. Turn up heat and sauté corn and ¼ cup roasted red pepper slivers. Add ½ cup vegetable broth, salt and pepper to taste and thyme leaves. Cook until heated through and toss until well blended. Cover, keep warm, reserve.
Toast or grill eight QRUNCH burgers in a 350 oven or in a toaster oven until the exterior is crispy and they are heated through.
NOTE: All of the separate vegetables and sauces may be prepared the day before then reheated and assembled just before serving. Additional vegetable stock may be needed in each dish to loosen the vegetables and create jus.
To assemble:
Spread each of four QRUNCH burgers with 1/4 of the avocado mixture. Top with second QRUNCH burger. Use offset spatula or table knife to smooth and align edges of the two QRUNCH burgers and the avocado filling. Place terrine on a serving plate.
Spoon ¼ of the corn mixture and its liquid over the terrine, leaving some of the terrine exposed.
Spoon ¼ of the bean mixture and its liquid over the corn, leaving some of the Qrunch, corn and avocado exposed.
Top with ¼ of the butter nut squash.
Snip a1/4" corner from the re-sealable bag. Pipe generous dots of pepper-garlic aoli on the plate surrounding the terrine.
Garnish the terrine and vegetables with toasted walnuts and fresh thyme sprigs.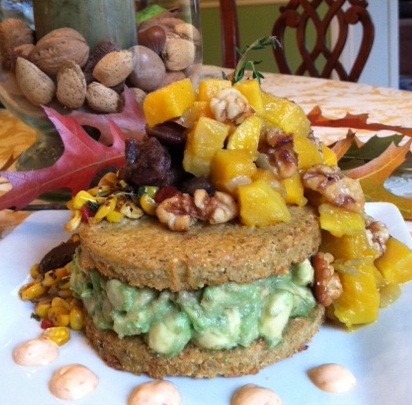 SMALLER SERVING SIZE: If you wish to offer a smaller serving, spoon a smaller avocado portion onto the plate first then top with a QRUNCH burger, smooth the sides and continue assembly instructions.