It's that time of year again: spring cleaning for my deep freezer. Â It doesn't take my freezer too long to have 5 inches of ice surrounding each shelf. Â Since we currently live in an apartment and my freezer is in the living room, I can't hack away at the ice like I normally did every few months. Â We're currently working on eating everything out of the freezer so that we can unplug it soon (in a non-living room location, of course).
It was good timing, as I received a package of samples from Stubb's last week. Â I already had the last of the chicken defrosting, so we had a "Stubb's-stravagansa," meaning, of course, we put different Stubb's products on each of the chicken breasts.
Stubb's makes a variety of sauces, marinades, and spice rubs. Â We had a nice variety: 2 spice rubs, a marinade, and a barbecue sauce.
"Stubb's makes it good." Â Carter obviously really liked his Stubb's chicken. Â The chicken was nice and moist and very flavorful. Â Braden even liked the barbecue rub (now that's saying something!).
Stubb's are certified gluten-free and contain no high fructose corn syrup.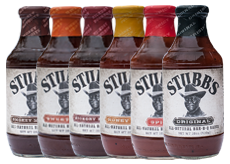 Do you want to give Stubb's a try, too? Â Well, they have provided 3 coupons for free Stubb's products for one lucky winner. Â All you need to do to enter this giveaway is leave a comment on this post about barbecue, grilling, or something along those lines (i.e., I hate that my gas grill lives unusable on my porch and will until I get into a house. Â I love grilling!).
This giveaway is open to U.S. addresses and will close at 9:00 p.m. central on Saturday, May 25, 2013. Â Happy barbecuing!!