A big chewy cookie… I mean, who wouldn't want to eat a big chewy cookie and call it a healthy snack bar?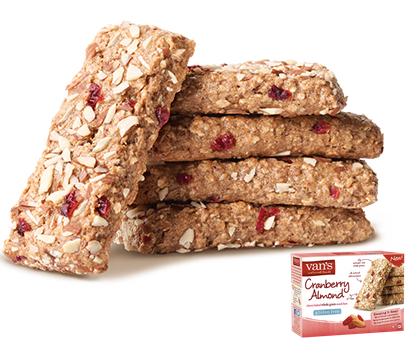 Essentially, that's what the new Van's Snack Bars are to me – cookies, albeit healthier ones. Â They've got a great chew to them, no worries about them falling apart. Â We first found the cranberry almond ones a couple of months ago and Braden loves them (and I love that he can eat them). Â The bits of almond are all quite small, so there is nothing to have to bite or break apart. Â The flavor is quite close to my cranberry oatmeal cookies and it is a happy day when I get to have one of these between teaching classes. Â 🙂 Â The chocolate chip bar makes me feel the same way: a healthier version of one of my favorite cookies. Â I love that they use figs for some of the sugar! Â There is also a peanut butter version. Â I haven't tried it, but after trying the other two, I'd bet it's a winner also.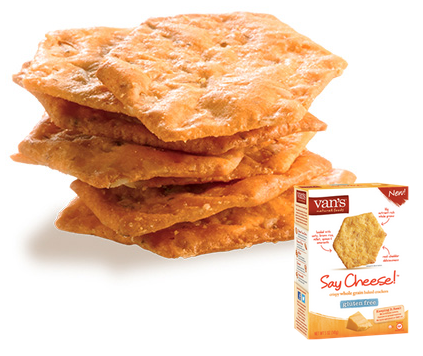 Oh my goodness, I think these new "Say Cheese" crackers will satisfy my cheesez-it cravings for awhile. Â They are not quite the same, but they have some similar qualities for which I have been searching. Â They are thin and crispy crunchy and pretty cheesy. Â However, they are quite different because you can taste the oats and quinoa (just a bit, and I didn't notice it for the first few crackers). Â If my memory serves me well, I would say it's somewhere along the lines of a cheez-it + wheat thin + goldfish (minus the gluten, of course). Â They are certified gluten-free, corn-free, and full of nature but not the lab (all natural, no artificial colors or flavors).
Would you like to give these snack bars, crackers, or even Van's new cereals a try? Â Not only did they send me the coupons for my samples, but they sent me some to give away, too. Â To one winner, I'll send 3 coupons for a free box of Van's cereal, snack bars, or crackers. Â To enter, just comment on this post about cereal, snack bars or crackers (for example, I love cheez-it-type crackers, but don't bother to bake them more than once every other year). Â This giveaway is open to U.S. residents and will close Saturday, May 11, 2013 at 9 p.m. central.