Around the office, we talk about some pretty interesting things related to health and fitness. Â One of those things is chocolate milk.
Have you ever seen a cross-country runner come in after a long run and down a huge glass of chocolate milk? Â The first time I experienced this phenomenon was a few years ago while visiting my friend Roben, whose son ran cross country in high school. Â I thought it was the strangest thing (though awesome!). Â He said he recovered better after a long run.
Fast forward to last fall to now. Â We research; it's just what graduate students do. Â We do our own research, we research other people's research, we write papers on other people's research… Â We write papers on chocolate milk.
Well, I haven't, but a number of my friends have – the exercise physiology majors. Â Chocolate milk (or other flavored milk) makes a great recovery drink because of its carbohydrate and protein content. Â There are a whole lot of research journal articles about it if you are interested.
Why do I tell you this? Â Because chocolate milk is cool.
Most of the time, chocolate or flavored milks are full of high fructose corn syrup and stuff like that. Â There are, thankfully, a few organic milks that come in a flavored variety (and I've always found them to be tastier).
How do you like your milk best? Â Do you like to drink it from the bottom of the cereal bowl after it's been flavored by your favorite cereal?
Well, a lot of people do and Cow Wow was born. Â Cow Wow is milk flavored to taste like it's been soaking up the flavor from cereal.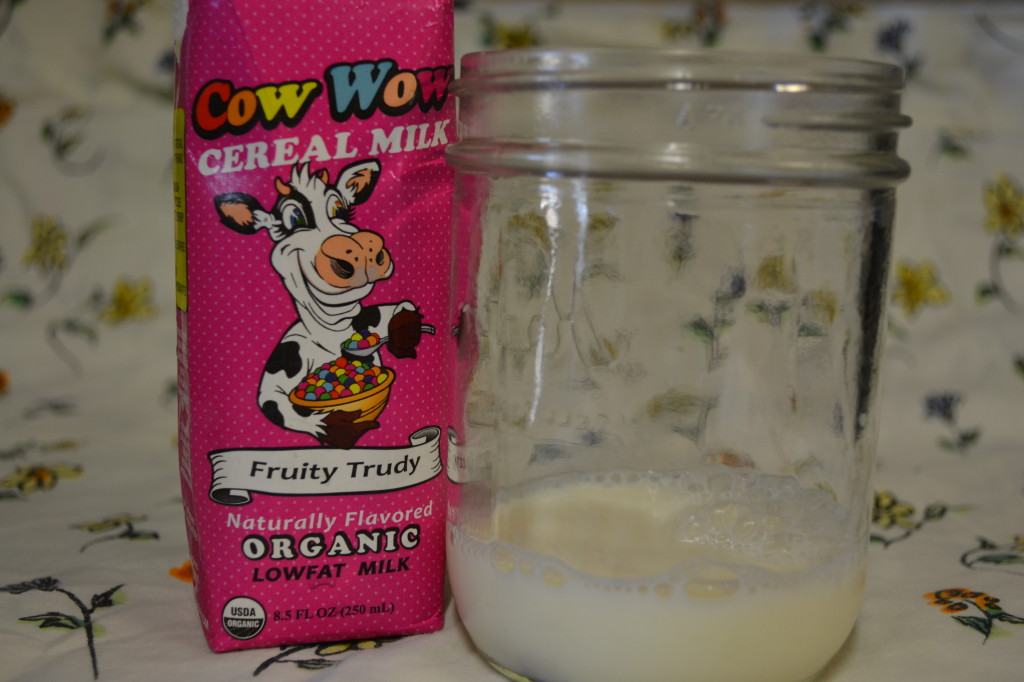 We first tried the "Fruity Trudy". Â The milk was still white – no artificial colors! Â Braden commented that it "tastes exactly like fruity pebbles milk" and then a raging debate ensued about whether or not it smells like fruity pebbles. Â Carter and Corice said they would love to drink it all the time. Â Braden, with his oh-so-refined middle schooler's tastes (cough, cough), said he wouldn't want it always, but he would definitely enjoy it from time to time.
"Chocolate Chip Cathy" is a completely different take on chocolate milk. Â It is a very light brown in color. Â We couldn't decide exactly what the smell reminded us of, but we tossed around chocolate chip cookies and Martin offered up chocolate ice cream. Â The taste of the milk reminded me of the chocolate chip cookie cereal we had tried a few months ago. Â Braden disagreed. Â We both agreed, though, that it tasted pretty neat.
Cow Wow is made from organic 1% milk and organic cane sugar. Â The boxes are obviously designed for children, with cute little poems about the cows on the back. Â They are a great new take on the flavored milk and fun for kids of all ages.