I have a new cookbook to share with you, and I even have one to give away!
Sweet Debbie's Organic Treats: Allergy-Free & Vegan Recipes is a beautiful cookbook full of luscious pictures and recipes.
I have a wonderful Q&A with the author, Debbie Adler, to share with you, as well as a recipe for Vivid Vanilla Cupcakes.
To enter the giveaway, simply leave a comment on this post about what's your favorite thing about living "free-from…". Â Mine is not feeling like I'm about to die most days. Â :/ Â This giveaway will end at 9pm central on February 28, 2014. Â It is open to U.S. addresses.
www.sweetdebbiesorganiccupcakes.com

Have you always been sugar-free, gluten-free, and allergy-free?
I was found guilty of eating Yodels (ok that dates me quite a bit doesn't it?) in my
bedroom as a child, as well as of obeying the 11th commandment that says "Thou shalt
eat gluten-filled bagels every Sunday morning for eternity". So no, I have not always
been a free from person, but I educated myself along the way and became a free from
fighter!
What made you decide to eliminate sugar, dairy and other allergens from your
diet?
I started reading medical journals, this was before the internet, and learned of studies
that were being done that pointed to sugar being the culprit for a host of scary-sounding
diseases and conditions, as well as the cause of premature wrinkles. That was it – I
stopped eating sugar cold Tofurkey. Dairy I stopped eating after reading Skinny Bitch.
Thank you Rory Freedman and Kim Barnouin you smart and skinny bitches.
What health benefits have you seen after making these changes to your diet?
I lost excess weight and I'm more toned and in better shape now than I was in my 20's. I
feel better, too, because I don't feel as clogged up as I did before.
What are some food substitutes that you've found you like better than the "real
thing"?
I'm a big drinker now – of coconut milk. That's a miracle liquid unto itself. I also use
stevia and coconut nectar as replacements for sugar.
How did you end up as the owner of your own bakery?
I wanted to eat a cupcake that was made with an all-natural, low-glycemic, sugar
substitute and couldn't find it anywhere so I figured out how to make them myself and
decided to share.
Did your bakery start off allergy-free, sugar-free and vegan or have your treats
evolved over time?
My bakery started off just sugar-free and organic with a few gluten-free options. Then
when my son was diagnosed with severe and life-threatening food allergies I also made
it completely allergy-free, gluten-free and vegan.
What's your absolute favorite dessert?
My new favorite, since it changes all the time, is Sweet Debbie's Dark Chocolate
Drizzled Cranberry Macaroons. I eat one at least every four hours.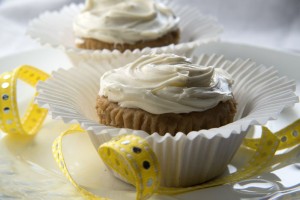 VIVID VANILLA CUPCAKES – by Debbie Adler
Makes 12 cupcakes
Reprinted with Permission
Must Have
Cupcakes
12 standard-size paper baking cups
3/4 cup unsweetened plain rice milk
1 teaspoon apple cider vinegar
2 cups all-purpose gluten-free flour
1 Â 1/4 teaspoons sodium-free baking powder
1/2 teaspoon baking soda
1/2 teaspoon guar gum
1/4 teaspoon fine sea salt
1/4 cup grapeseed oil
1/4 cup coconut nectar
1 tablespoon vanilla extract
3/8 teaspoon stevia powder
1/3 cup vegan, soy-free plain yogurt (Debbie uses So Delicious coconut milk yogurt.)
1/2 vanilla bean, cut in half lengthwise and seeds scooped out and reserved
Vanilla Frosting
2 Â 1/2 cups powdered erythritol
6 tablespoons warm vanilla rice milk
2 tablespoons coconut oil
1/4 teaspoon fine sea salt
1/2 vanilla bean, cut in half lengthwise and seeds scooped out and reserved
Must Do
1. Preheat oven to 325°F. Line a standard 12-cup cupcake tin with paper baking cups.
2. To make the cupcakes, mix together the rice milk and apple cider vinegar in a
2-cup measuring cup.
3. Whisk together the flour, baking powder, baking soda, guar gum and salt in a large bowl. Make a well in the middle.
4. Add the grapeseed oil, coconut nectar, vanilla and stevia to the flour mixture and stir to combine. Next add the rice milk mixture and stir until it is absorbed and the batter is smooth. Stir in the yogurt and vanilla bean seeds until well combined.
5. Pour the batter into the measuring cup, as the spout will make it easier to pour the batter into the cupcake tin without spillage.
6. Pour the batter into the prepared cupcake tin, dividing it evenly. Each cup should be about two-thirds full. Bake the cupcakes for 15 to 16 minutes, or until they are a light golden brown and bounce back slightly to the touch. Rotate the cupcake tin from front to back halfway through baking.
7. Transfer the cupcake tin from the oven to a wire rack and let sit for 10 minutes before removing the cupcakes to cool completely.
8. To make the vanilla frosting, mix together the powdered erythritol and warm vanilla rice milk in a medium-size bowl. Add the coconut oil and salt and stir until smooth and well incorporated. Stir in the vanilla bean seeds.
9. Frost the completely cooled cupcakes. Keep unfrosted cupcakes in an airtight container for up to 3 days, or wrap and freeze them for up to 3 months. Leftover frosting keeps in the fridge for about 4 weeks if stored in an airtight container.