I love witty packaging, as long as the food inside is good, of course.
Rumor has it that some of our peers in the chip world have been attempting to 'jazz up' their wares with things like MSG and something known as 'disodium guanylate.' Â Barbarians!
Yep, the packaging for Tyrrell's Hand-Cooked English Chips is a good accompaniment to their awesome potato chips.
Veg Chips: now this is the way I like my beets! Â 🙂 Thin and crispy, these chips give you a chance to try something you might not otherwise, like beets and parsnips. Â I think, though, this may be the first time I've ever had chips made from carrots. Â The beets and carrots, though crispy and crunchy, just seem to make your mouth party itself into a salivation frenzy. Â Yeah, it's like that. Â All I can get out of Braden is a vigorous nod of the head while he stuffs his face.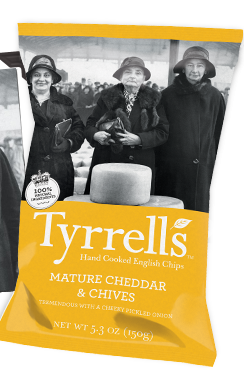 Lightly Sea Salted, they mean lightly. Â It has less than half the sodium of the others. Â The sunflower oil that they are fried in gives it a hint of a different flavor than many potato chips. Â Braden can't keep his hand out of the bag.
Mmmmm… Mature Cheddar and Chives. Â Yeah, there won't be anything left in this bag tonight. Â They are "tremendous with a cheeky pickled onion" according to the bag. Â I don't know about that, but they're pretty tremendous all on their own. Â This is definitely not your typical "cheese-flavor" found on chips and the like. Â Each chip is a new surprise, too. Â Some have just a hint of flavor and some have an explosion. Â You may not want to eat these on a date, though. Â The chives hang with you. Â But they're tasty chives.
Braden, put down the Lightly Sea Salted bag and step away from the chips. Â Well, everyone else is binge-ing on crappy all-you-can-eat gluteny pizza somewhere, so I'm being the awesome mother that I am and sharing potato chips for dinner with my gluten-free man. Â Yeah.
Well, I wrote this post a few weeks ago and had a couple more bags of chips to try. Â I opened the Sweet Chili & Red Pepper and had a couple, but left the bag on the counter, not on the review shelf. Â Oops. Â I came home to find my husband had eaten the entire bag. Â I guess he thought they were really good. Â Take my word when I say you need to give these a try. Â Who ever heard of star anise in a spicy pepper chip?