Once upon a time, there was a girl who shopped at Costco.  She found these wonderful Everything crackers and fell in love.  Next time she went back, she bought 3 bags!  Her little brother and her mother, who aren't gluten-free, also fell in love with these crackers.  She gave each of them a bag, intending to pick up some more the next time she went to Costco.  Alas!  They no longer carried the everything cracker, but after a month or so, she found the same brand of cracker in the Sea Salt version.  Everyone loves them so much that to this day, she buys 3 bags every single time she goes to Costco.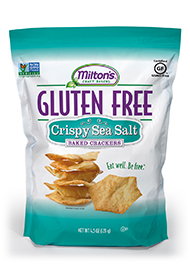 True story.
These Crispy Sea Salt Baked Crackers from Milton's are amazing, people. Â The Costco bags are 1.25 pounds and Braden and I alone can polish one off in a day. Â I totally have to pace myself. Â In fact, I had grabbed a rather large handful so I could sit here and describe them to you and I had them polished off before my browser and my site were fully loaded.
Obviously, I need some more personal control. Â :/
The crackers are thin with air bubbles. Â They really are crispy and crunchy, none of that strange "rice cracker crunch," either. Â Sometimes, when I get a bag that got cooked a little longer than normal (it's happened maybe once or twice out of probably 15 bags), the taste reminds me more of a saltine (at least, what I remember those tasting like from over 11 years ago). Â Often the sea salt is the predominant flavor, but it gives way to a very faint hint of sweetness in an enjoyable flavor from a small mix of grains.
The kids and I love to eat these with some gouda cheese and grapes. Â Yeah, we do. Â Or ham and cheese, but mostly just by themselves and in larger-than-appropriate quantities.
The multi-grain flavor is completely new to me. Â I'd never seen it in stores before. Â I can't pin down the flavor. Â For some reason, it reminds me of peanut butter, though it has no peanuts (and it doesn't actually taste like peanut butter…). Â How weird am I? Â I definitely like them, though.
Oooh, the cheddar ones don't have powdered cheese on them! Â The cheese is baked in the cracker. Â The cheddar flavor is not intense, but the saltier chips do seem to carry a heavier cheese flavor. Â Oh my gosh, I've fallen in love. Â They need to sell these at Costco (or maybe not, since I've been trying very unsuccessfully to lose this baby weight). Â Uh oh, Corice came to check out what I'm doing. Â I wasn't hiding, I swear. Â She really likes these, too, and is off to try the multi-grain. Â I have to make sure I save some of these cheddar ones for Braden. Â He's been eyeing these since they arrived.
The everything crackers are like an everything bagel: seeds, onion, garlic… Â Maybe don't eat them on a first date, but you can enjoy them any other time.
Milton's gf crackers are certified gluten-free. Â They are also:
+ Non GMO Project Verified
+ No High Fructose Corn Syrup
+ Orthodox Union Kosher
+ rBST Free
+ Xanthan Gum Free
+ Peanut and Nut Free
+ Certified Vegetarian
+ No Trans Fat
+ Baked, Not Fried
You can find them across the country at some natural foods stores, as well as:
Club/Warehouse Stores

Costco
Sam's Club
BJ's

Grocery/Natural Stores

Trader Joe's
Henry's Marketplace
Sprouts Farmers Market
Whole Foods

Select Stores

Walmart
Target
Smart & Final
I almost forgot the giveaway! Â How silly of me!
Milton's would love for you to try these, too, so they are offering a prize pack with one bag of each of the 4 flavors to one lucky Delightfully Gluten Free reader! Â Comment on this blog post to enter the giveaway, and let us know your favorite thing about crackers. Â For me, they are a feel-good food (I took a bag of the sea salt crackers with me to the doctor yesterday, knowing that I had to take a new medicine). Â This giveaway will end at 9pm central on Saturday, June 13th.
P.S. – If you let your children make their own lunches, you may want to check that they don't fill a quart-sized ziploc of these crackers for one day. Â Been there, done that.