Sometimes I just want a really quick dessert.  As I was thinking about the tortillas from yesterday's post (don't forget about the giveaway), I had planned to use a Rudi's Plain Tortilla with some honey for a quick pick-me-up.  As I stuck it in the skillet to warm (I had them in the freezer), however, I was thinking about the boys' camping trip and I had a new idea.
S'mores.  Those fun little treats.  Why not turn this tortilla into S'mores burrito: a S'morerito.  It's super simple, fun, and tasty!
Recipe: S'moreritos
Summary: A S'mores Burrito!
Ingredients
Gluten-Free Flour Tortilla, like Rudi's Gluten-Free Bakery Plain Tortilla
Ground Cinnamon
Chocolate Chips
Marshmallows (small ones are easiest)
Instructions
If your tortilla is frozen, put it in a medium-low skillet to defrost on one side.
Flip the tortilla over, sprinkle some cinnamon on it. Top with some chocolate chips (I used Enjoy Life Foods Mega Chunks) and marshmallows. Cover with a lid and let sit a few minutes until chocolate and marshmallows begin to melt.
Remove from skillet and form a burrito (fold one end then each side over).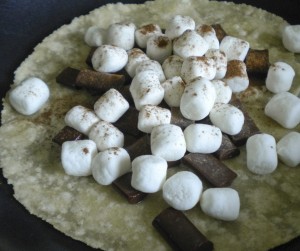 Preparation time: None
Cooking time: 5 minute(s)
Diet tags: Gluten free
Number of servings (yield): 1
Recipe by Delightfully Gluten Free.