Crusty on the outside, soft and chewy on the inside. Â The new Brownie Cakes from Lucy's are sure to be a fun lunch treat.
I recently received some samples of the new Brownie Cakes. Â I'm pretty impressed with these. Â They are not super-desserty, but really designed to be a "lunch box" sort of treat. Â Slightly sweet, with a moderate chocolatey flavor, these treats provide a fun and enjoyable dessert without a bunch of guilt (at least compared to my brownies). Â Each box has 4 packs of 2 brownies a piece.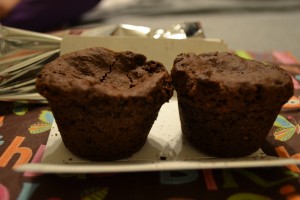 I taste a little flavor from oats, and a very slight flavor from garbanzo/fava flours (but I am very aware of bean flours).  The ingredients come from natural sources, and are  peanut/tree nut-free, milk-free, egg-free, and certified gluten-free with the Gluten-Free Certification Organization.  Each brownie has 120 calories, 11 grams of sugar, 4 g fat, 2 g protein, and 2 g fiber.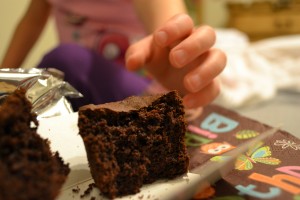 They are definitely approved by Corice, who had a hard time watching me take pictures of them.
Lucy's also has new Snack 'n Go Packs of their cookies. Â Each little pack has 3 cookies in it, and each box has 6 packs. Â These are also great for lunches. Â The cookies, too, are peanut/tree nut-free, milk-free, egg-free, and certified gluten-free. Â The oats help provide a bit of fiber in the cookies. Â If you're like me, then this is proof that you can eat them more often. Â 🙂