I love the smell of sweet treats no-baking in the morning…and afternoon…and evening.
I recently was given a copy of Cristina Suarez Krumsick's No Bake Makery by the publisher and we finally had a chance to make some of the wonderful recipes we've been drooling over the last couple of weeks.
Do you live in one of those places that you hate turning on your oven during the summer? Â I certainly do. Â In Texas, we try to limit our oven usage in the summer: April through October (except for this bipolar weather year). Â When your air conditioner runs all day just to keep the house at 80 degrees, you can't handle an oven. Â Perhaps you're the type of person who just doesn't use an oven for whatever reason. Â Or maybe you just like some things that are easy and/or different.
Well, you might be interested in this super cute cookbook. Â With great pictures and cute graphics and colors throughout, this is a great "perusing" cookbook. Â Carter (almost 7) has now read almost the entire cookbook. Â It's been sitting on my kitchen counter begging me to make something, so he often sits down and reads a few recipes.
There are many recipes in the book that are marked gluten-free, but the majority of them can easily be gluten-free by using a gluten-free version of the same ingredient (like Glutino pretzels or sandwich cookies). Â We made the "Captain Yum" which calls for a crunchy corn cereal (like Cap'n Crunch) and we used the Multigrain Puffins, making a it a fabulous crunchy chocolate cluster. Â Martin is feeling especially loved today as he is munching on all of the no bake treats, including the "Sweechies", a Fruity Pebbles (which is gf, by the way), coconut flakes, white chocolate, and sprinkles concoction. Â I think it's true name is Crack. Â I just can't stop eating it.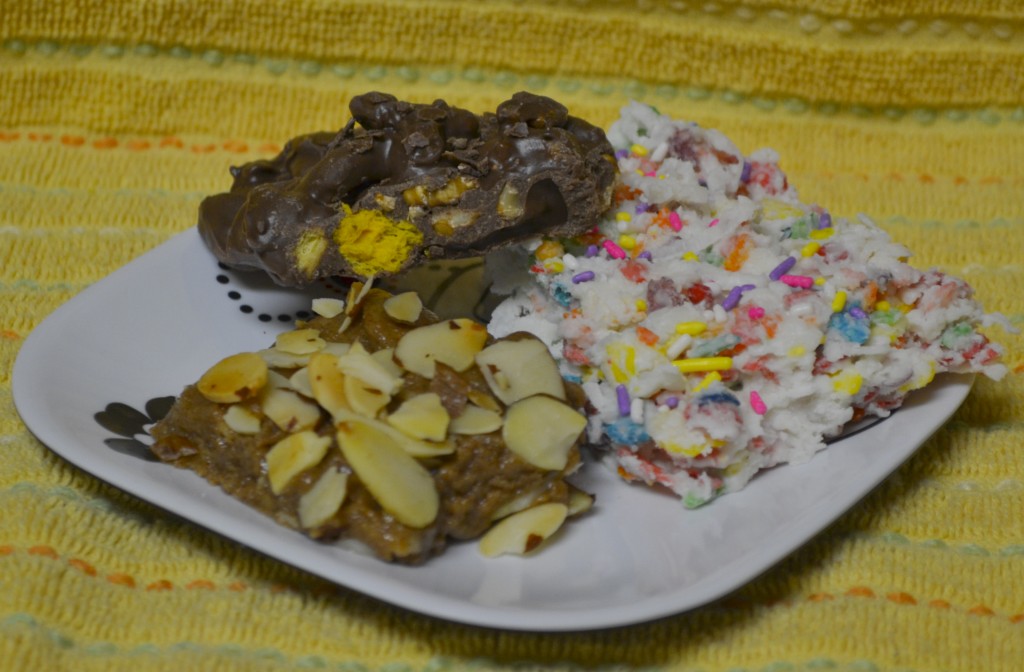 Braden has waited for weeks to try the "Almond Butter Fudge". Â The only "cooking" part of this fudge is to toast some of the almond slices in a skillet. Â I was truly surprised that there weren't more heat-related steps involved (every fudge I've ever made requires cooking on the stove for awhile). Â Enhancing the almond flavor, the cinnamon and sea salt really give it a tasty punch. Â It does need to remain cold or it will start to "wilt."
No Bake Makery will be released on May 7th (in just a few days!).  To celebrate, we're going to give away a copy on Delightfully Gluten Free!  To enter, leave on a comment on this post relating to a no bake experience of yours (for example, I make some pretty awesome treats involving Chex and almond bark and a variety of other ingredients).  This giveaway is open to U.S. addresses only (and no P.O. Boxes).  It will close on Wednesday, May 15, 2013, at 9:00 p.m. central.
Ingredients
1 teaspoon unsalted butter
1 cup sliced almonds
1 cup unsalted creamy almond butter
1/4 cup sweetened condensed milk
1 1/2 Tablespoons honey
1 teaspoon ground cinnamon
2 teaspoons sea salt
Instructions
Line an 8 by 8-inch baking dish with aluminum foil and coat with nonstick spray. Set aside.
Place the butter in a small saute pan over low heat. When it is just barely melted, add 1/2 cup of the sliced almonds and toast until golden brown, about 2 minutes. Remove from the pan and set aside.
Combine the almond butter, condensed milk, honey, cinnamon, 1 teaspoon of the salt, and the remaining untoasted sliced almonds in a large bowl. Using a rubber spatula, stir until evenly distributed. Pour into the prepared pan and smooth into an even layer.
Sprinkle the toasted almonds and the remaining 1 teaspoon salt over the mixture in the pan. Refrigerate for 4 hours or until the fudge is set.
Gently remove the fudge from the pan and place it on a cutting board. Peel off the foil and cut into two-bite pieces.